Gone are the days when bathroom signs have simple, undecorated labels. If you think a bathroom sign has no room for humor, then think again!
From weird shapes to combined letters to pictograms, some bathroom labels are far from typical. Ready to laugh out loud? Take a look at our compilation of the most creative bathroom signs ever made
Chromosomes
Creators of this quirky bathroom sign must be huge fans of science. Why, you ask? Well, you will need to have a little knowledge of chromosomes to figure this one out. If you're still wondering, XX is for females (their sex chromosome counterpart), while XY is for males.
Drink Orders
These bathroom signs decided to label their doors with two popular alcoholic beverage choices. Seriously, we can't help but admire this bar's witty take on these signs!
Interpretive Doors
While the text displayed on these bathroom doors might not apply universally, most people still believe women talk more than men. Would the text on the doors be enough for people to figure out which bathroom to go into? For some, maybe, but for others, it might seem offensive.
Storm Clouds
This gardening nursery had the most clever way of matching their bathroom signs to the weather! They used rain from storm clouds to distinguish between the sexes, which we think is pretty funny.
To Each Their Own
Some businesses have done their fair share of creating gender-inclusive spaces for everyone, like the bathroom sign shows. We think it's pretty cool that this restroom aims to let everyone feel included and welcome.
Animal Kingdom
We know you find these signs very hilarious because we definitely did! Pictures truly speak louder than words here. If you don't catch the reference, you might be confused as to which restroom to use here!
Everyone's Superhero
This sign probably delights sci-fi fans the most, especially because of the use of superheroes as bathroom labels. Plus, who doesn't love to see R2D2 on a bathroom sign, especially when it signifies the inclusion of the disabled community?
Restroom Manners
Here's another clever sign that highlights an old but still widely practiced restroom manner. Males are supposed to keep the toilet seat up as a courtesy to the next user, while females keep the seat down. We think it's pretty self-explanatory!
Attention to Details
The slightest details can alter reality or perception, and that's what this bathroom sign shows. The two images look similar at first glance, but if you look closer, you'll definitely know which bathroom you're supposed to use!
Beer, please?
This bar uses the most fitting anatomy metaphor for its bathroom signs! Without a doubt, their customers will surely remember the culprit behind their drunken state: beer.
The Right Direction
We can't emphasize enough how accurate this sign is! For men in a relationship with women, we suggest you take the advice on this bathroom sign by heart to lessen possible conflicts in the future.
Popeye the Sailorman
If you're a fan of Popeye, then these adorable bathroom paintings will definitely impress you. We think the attention to detail is especially impressive with these signs.
Which one are you?
Whether you're a chick or a chick magnet, you're bound to get a giggle out of these cute bathroom signs!
Bathroom Brainstorming
We couldn't agree more with this sign: some of the best ideas happen when you least expect them. The bathroom is surely not exempt from this!
Which Way to Flip the TP?
Who hasn't argued on which is the proper way to flip a new roll of toilet paper? Clearly, this embroidered sign shows the right way to do it!
Bathroom Etiquette
Mix an inspirational quote with proper bathroom etiquette, and you've got this lovely bathroom sign to display in your favorite powder room!
No Sprinkles Allowed
This bathroom sign appears delicate and stylish, but the message remains clear: no sprinkles allowed in the restroom!
Bows
These bathroom signs take a nicer, cuter approach in distinguishing which restroom is for whom.
Fruitful Signs
Sure, fruit is great, unless its spotted on the door of a public restroom. Here, two common fruits distinguish men's from women's restrooms. We can't help but laugh.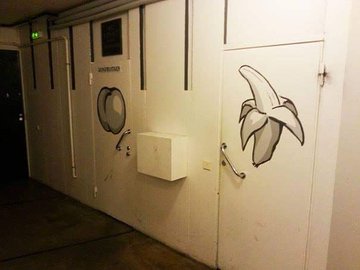 A New Take on TP
For sale on thecraftyblogstalker.com, this sign is quite the comedy piece! We think it'd make for a great picture in a bathroom at the local pub.
When You Really Have to Go…
How hilarious is this sign? Spotted at a Lego Land shop, this bathroom sign shows four people who clearly have to use the restroom right away!
Happy Pride!
Yet another inclusive bathroom, this one also makes our list of the most creative bathroom signs ever made. Inclusive, creative, and affirming, this bathroom sign does it all!
Haunting Shadows
What can we say? These bathroom signs are truly out of the box! Far from your typical signages, these bathroom labels use human-sized figures to show whose bathroom is whose. If you're scared of ghostly figures, though, this sign might spook you!
Religious Signs
These toilet signs can be found at the Holy Island, and we couldn't think of a more befitting way to label them. Here, brothers and sisters mean something different!
Witty or knot?
Who thought ropes would make good bathroom signs? If you've got a dirty mind, then you probably think this bathroom sign is the funniest on our list!
Uniquely Wired
While this may look like an ordinary design for a music bar, you'll be surprised to know there's more to it than meets the eye. Look closer, and you'll see the cable wires are actually pointing to whom each bathroom door is meant to use.
Slovakian Skiers
These adorable bathroom signs in a Slovakian ski resort show an adorable take on skiers using the loo. These skiiers love skiing so much, they won't even let their sleds leave their sides!
Entertaining Advice
We can't help but notice the passive-aggressive tone on these theater bathroom signs. Housekeeping personnel must have thought it was funny to include theater puns on their bathroom signs.
Hard to Miss
Arcades are one of the easiest places to lose track of time, especially with all the flashy games, noises, and neon signs. Luckily in this arcade, finding the restroom won't be difficult because of the signs pointing in the right direction!
Unleash it!
We can't help but wonder if these bathroom signs were meant for a vet office or a pet hotel, but regardless, the dogs are pretty cute! After all, who hasn't seen dogs do the same things these signs are talking about?
Good Stuff
We never imagined pizza could symbolize something other than our favorite meal. But, this pizza parlor took creativity to the next level by using pizza on their bathroom signs.
The Simpsons
Who doesn't love The Simpsons? This comic bookstore couldn't have used a more clever label than our favorite dysfunctional, animated couple, Homer and Marge, for their bathroom labels!
May the Force be with you!
Think Star Wars could never make an appearance on a bathroom door? Well, think again! Here, we've got two cartoon characters resembling one of the most popular movie franchises of all time, with their lightsabers and all.
Culturally appropriate
Our cultural upbringing makes up a big portion of who we are. In Australia, an outback decided to highlight its local language by using slang in its bathroom signs. Props to their exceptional creativity and appreciation of local culture!
The Other Way Around
Creators of these bathroom signs probably loved doing pranks as kids, and they decided to play fun with their customers. With hands pointing to the opposite door, we hope users won't spend a long time figuring out which door to enter before it's too late!